Get Help with Your Delayed, Denied, or Underpaid Property Insurance Claim
Recover everything your insurance policy promises. Whether your home or business has sustained damage, I am available to help you negotiate your insurance claim, and litigate it when necessary.  Answers to Frequently Asked Questions about the the insurance claim process along with answers about how my office helps clients like you are linked below. If your home or business has been damaged, I can protect your rights against the insurance company and help you get the compensation you deserve. To start the process of getting your life back on track, contact us today.
Learn More about the Insurance Claims Process
Read the Frequently Asked Questions page to learn more about things like:
Bad Faith Damages You May Be Entitled To
How Our Office Helps You Negotiate, Settle, And, If Necessary, Litigate Your Insurance Claim
How Long The Insurance Company Has To Pay Your Claim
How Long You Have To File Suit Against Your Insurance Company
Whether Items Like Overhead And Profit and Depreciation Are Owed to You
Your Duties After A Loss
Which Louisiana Laws Apply To Property Damage Claims
Read our popular blog posts for more detailed information.
Example Case
Many times the insurance company's initial adjustment ignores obvious damages and underpays other items. In the example hurricane claim case below, the insurance company initially only paid to paint over water damaged drywall, undervalued the roof replacement cost, ignored electrical and carpet damage, and more. The insurance company also delayed paying the claim timely. We recovered property damages and bad faith damages for the client. [Use our bad faith calculator to estimate your bad faith damages.]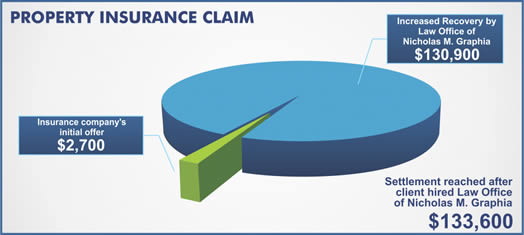 Negotiate and Settle or Litigate Your Insurance Claim
I understand that when your home or business is damaged, it is more than just an inconvenience. The personal and financial impact of such an event can be devastating. Even minor damage can disrupt your daily life, and major damage can pose serious health and safety risks and displace you and your family.
I know how important it is to restore your property to its original condition as quickly as possible, so you can get back to life as you know it. That is why I am dedicated to standing up for your rights against the insurance company and minimizing the financial impact to you and your family by ensuring you are fairly compensated when you experience an insurable loss on your property.
I will only accept your case if I think it will benefit you, and I only get paid if you do. After conducting a thorough review of your insurance policy and obtaining the results of the independent damage assessment on your property, I will use the facts of your case and the applicable insurance laws to negotiate and settle your claim with the insurance company. While many cases can be settled on a pre-litigation basis, I also vigorously litigate your case when necessary.
Visit the Insurance Claim Negotiation and Bad Faith Litigation pages for more information.
To start the process of getting your life back on track, contact us today.